Yvette Castleroy was the daughter of Lord Castleroy and a new love interest of Leith Bayard. After her arrival at the French Court, she becomes smitten with Leith who helps her out of a tight spot. 
Yvette was a member of the House of Castleroy by birth.
She was portrayed by English actress, Sarah Winter.
Early Life
Edit
TBA
Throughout ReignEdit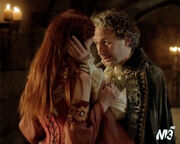 Yvette arrives at the 
French Court
 in
Slaughter of Innocence
. She takes a interest in 
Leith
 after he saves her from the King's new guard who continues to flirt with her. When the guard leaves and she asks him to have a drink with her and tell her about the army but he says he's looking for
someone
.
Later, Leith decides to have a drink with her but as she wants to agree to it but has to go. She goes to Lord Castleroy and he kisses her head. She is revealed as his daughter and she tells him she has had a lovely evening.
In the series premiere, Yvette alongside Leith attended the gathering to hear Mary's announcement about the plague. During the gathering she points out her father out to Leith. She then goes to join him and his fiancee Greer. After the gathering she again meets up with Leith to discuss the revelation they both just had. After he reassures her that he wouldn't be with Greer anymore. She begs him to spend these possible last days on earth together. She asks him to meet her tomorrow at the suits of family friends. She later waits for Leith at the Valent's chambers, who never shows up. She drinks the water offered to her and dies of poisoning.
Personality
Edit
Yvette was an outgoing fiery woman. She had a way with words and wasn't afraid to speak her mind.
Yvette is female given name, the French feminine form of Yves, which means yew or archer.
Physical Appearance
Edit
Yvette was tall with her father's deep blue eyes and red hair. She wore lovely expensive clothes that befitted her status as a noble.
Relationships
Edit
Not much is known about the relationship but from what has been seen so far is that she has a loving bond with her father.
Greer was going to be Yvette's future stepmother.
Appearances
Edit
Community content is available under
CC-BY-SA
unless otherwise noted.