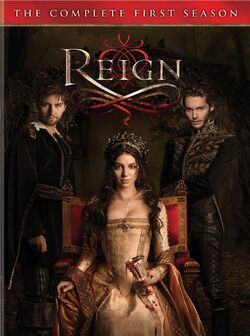 Reign: The Complete First Season (DVD) was released September 23, 2014.
Summary
"Between politics and passion, duty and desire, loyalty and love, lies the destiny of a queen."
—DVD Tagline
Ever since Mary Stuart, Queen of Scotland, was a little girl, the English have wanted her country and her crown. As a teenager, Mary is sent to France to wed its next king to save herself and her people. Waiting at the French Court is the gorgeous Prince Francis, his illegitimate half-brother Sebastian, a king on the brink of madness, a scheming queen, and the seer Nostradamus with a devastating prophecy. While royal conspiracies, sexual intrigue and mysterious dark forces lurk around every castle corner, Mary struggles to rule her heart's conflicting passions and make the right decisions as she prepares to become queen. Politics, passion and duty make for thrilling drama in all 22 royally scandalous episodes of the powerful new series, Reign. 
Discs
Disc 1
Disc 2
Disc 3
Disc 4
Disc 5
Bonus Features
Reign: The Making of a Queen - In this featurette, we'll talk with executive producers Laurie McCarthy and Brad Silberling and the cast to uncover the story of how the show came to be, why it was such an exciting story to tell, and how its makers re-shaped history to thrill a modern audience
The Authenticity of 'Reign: Recreating the 16th Century - From costumes to castles, an inside look at the design and style of Reign.
Deleted Scenes.